In our regular interdisciplinary workshops and seminars you will learn strategies on how to take the steps of the individual writing process independently:
Time and self-management during the writing project
Overcoming writing difficulties and creating strategies
Good scientific practice and plagiarism prevention
Structure texts logically, formulate them academically and revise them effectively.
We cordially invite you to our weekly courses and block seminars! Here you will find our offers for beginners and advanced students, during the semester or during the lecture-free period, as a classroom event or online - and you will also receive 3 credit points, which you can have credited in the area of key qualifications.
Our special highlight: "Academic writing à la carte" - put together your own seminar! You can also register for this course once the registration phases for the other SQ courses are over.
Further information and registration options can be found here:
Are you studying or doing your doctorate and looking for courses on specific topics of academic writing? Then visit our mini-courses! Here you will learn how to take the different steps from the first idea to the finished text.
The courses take place once a semester and last 3 hours. Registration is via ILIAS and ends one day before the respective mini-course.
New workshops for the summer semester 2021
Academic Employees of the Writing Center
Freelance Lecturer of the Writing Center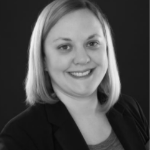 Dr.
Lucy Blaney-Laible
Head of the Language Center
Portuguese/Spanish Language Coordinator