As an instructor, it is often challenging to determine whether students' errors are based on their subject comprehension, or their English use. Therefore, giving adequate feedback can be a difficult endeavour. These rubrics are designed to help you identify and address your students' strengths and weaknesses in English, whether in written or oral projects. By using these rubrics, you can save yourself valuable time while offering more targeted assessment to your students. The rubrics can also be used as a starting point for choosing the best courses, mini-courses or workshops for your students' needs.
Need help learning to use these rubrics or adapting them to your specific needs?
Contact us! We're here for you.
Help yourself and your students - Giving proper feedback in an office hour situation
In the section "English as a Medium of Instructions" on ILIAS you can watch an exemplary video tutorial on how a successful consultation with feedback in English could look like.
ILIAS direct link: English as Medium of Instruction
Templates for Diagnosis
Title
Oral Communication Diagnosis
Presentation Assessment
Writing Diagnosis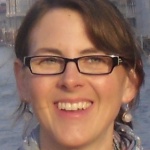 Gretchen Chojnacki-Herbers, M.A.
Academic employee (Teaching in English)
Coordinator for Arabic, Norwegian, Russian, Swedish, Turkish