See our numerous offerings in English for students, Ph.D. students, post-docs and researchers:
Our topics cover the entire writing process:
Proper academic style
Structuring before, during and after writing
Speaking skills in English (accent and voice training)
Composing rough drafts
Dealing with writer's block
Structured reading and recording of literature on the topic
Academic argumentation
Abstract writing
Introductions and conclusions
Methodology and result sections in academic papers
Literature reviews
Professional communication in emails
Visualizations in texts (graphs, charts, and other visual aids)
Comprehensive revision of texts
English grammar review
Academic vocabulary and phrasing
Letters of motivation in the application process
Please feel free to contact us if you have any questions!
Keeping Pace with the Times
Our work is based on the interdisciplinary results of writing research and the exchange with our colleagues from other writing centers in German-speaking countries. In the "Gesellschaft für Schreibdidaktik und Schreibforschung" and together with the writing centers of other universities in Baden-Württemberg ("Netzwerk der Schreibzentren in Baden-Württemberg (NWBW)"), we work on current questions of academic literacy.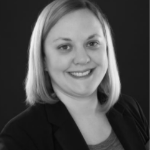 Lucy Blaney-Laible
Dr.
Head of the Language Center
Portuguese/Spanish Language Coordinator